Saturday, October 07, 2006
More at the Zoo..
Days are flying by, with too much to do and not enough time to do them..
I'm getting ready to take another 20+ dogs on the road to the Humane Society on Thursday of the upcoming week.
They are healthy and ready to be adopted & deserving of forever homes.
I've been working day and nite these days with the larger number of animals that have been coming in and have been working together with "Friends of Hannah", since we work so well together. It's just too much for one person to do.
If there is anything I have learned from the animals is the strength of spirit & forgiveness.
Those that end up here, mostly have been abused & neglected, but still have strength to love, even when other human beings have been mean and cruel.
In their last moments of life, I see true strength, to give one last kiss or snuggle deep into the fur of another littermate.
Forgiveness of the past & only focusing on the present, be it pats on the head, kiss on their faces or a bowl of food or water.. This kind of love should be our focus for the future of the animals. It should not go unrewarded. Little by little, one animals at a time, one by one, we can make a difference. The animals depend on us and truly are gifts given by our creator.
There are many, many sad stories that we should not turn a blind eye to or forget. Life is a journey and a story.. Each one having a very personal one to tell. Sometimes it is not easy to hear or see, but needs to be told and remembered so that we can help to make a difference and a hope for tomorrow that this may all come to an end.
The topic today was brought about by some of the new dogs that have come in..
These are their stories..
"Lucky" as we'll call him for now..
(We're looking for the perfect name for him, so please feel free to leave suggestions.)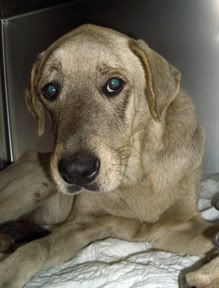 Was running around on the side of the highway, electrical cord hanging from his neck, starved and looking for food, he got his head caught in a chicken bucket. He couldn't see where he was going and ended up in the middle of the road with highspeed traffic and no one slowing down or stopping. Ashley my vet's tech, stopped and almost got herself killed trying to save him. She could not get people to slow down and all she could do was watch Lucky get hit time after time until she could get him.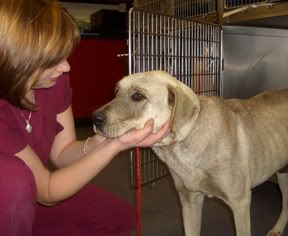 He is doing well and is currently at my vets office, getting lots of love, till he is healthy enough to come here. He is approximately 1-3 years of age. Will be around 50+ pounds when fully recovered. Sweet & shy personality, but in the right home will blossom!!
"Vanilla" is a 10 year old Maltepoo. Surrendered by his owner, due to having to go into a nursing home.
Housebroken and needing a lap to sit on.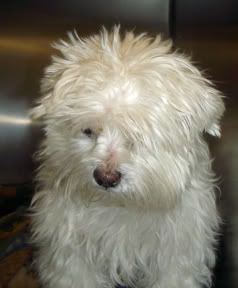 "Possum & Barry" 12 week old Collie/lab mixes.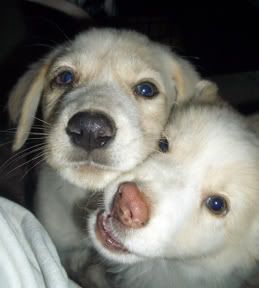 "Jessie" Australian Shepherd/mix 10 weeks old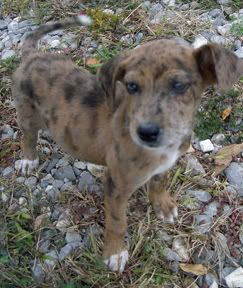 "Sy" A Yorkie/mix. Male, approximately 3-5 years of age.
"Bucky" A Scottie/poo, who really needs a friend. Always pawing at you to get attention. Very active and always running around to seach for critters in the yard. He need a tumor removed from his mouth & a bit of a diet.
Approximately 7-9 years of age.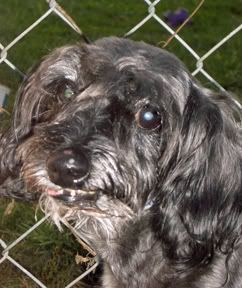 COMMENTS:
All I can say is God bless you for taking care of the vulnerable ones and for being their friend.
I thing lucky IS the perfect name for him.
Post a Comment
<< Home