Thursday, November 01, 2007
Heavy Post: Tissue Alert
The photo above is a rose bush that is outside the door at animal control.
It is very symbolic to me and caught my eye the very first time I went there..
It always has one rose blooming..
Even in the winter. To me it is a reminder even in the saddest of places there is always hope..
That is what I cling to, each and every time I walk thru that door.
You never know what the day will bring...
Today brought news about the shelter, that I pull most of my animal from.
There was an investigative report. The video is graphic and gut wrenching.
If you are interested in the story, click
HERE
There is not much I can say, the story speaks for itself. I had nothing to do with the story, but it was a story that had to be told. The sad truth is that euthanasia happens all over the country.
In counties close to where we are, many don't even have an animal control, the animals are collected, shot or killed in other unspeakable ways..
The bottom line is animals deserve better and it's up to us to help make it better..
When you do rescue, it is easy to lose your mind, breakdown and burnout, if you think about it all.
If you are a rescuer, you know exactly what I am talking about.
Also, I cannot stress enough to never buy a dog from a pet store..
I have been on puppy mill raids and it is something I don't ever wish on anyone ever to see..
The animals deserve better..
This video was just taken from a puppy mill situation in Virginia, the video is very touching, not graphic, but you will get the whole feeling of why not to buy from a pet store..
Puppy Mill Rescue Video
When I lived up north, I had heard stories about the animal situations in the south, but nothing could have prepared my heart for what I have come to see and know here..
I try to stay focused on my task, trying to do what I can, as much as I can for the animals of my county in a positive manner.
Working with my local politicians, vets and networking with animal welfare agencies that can help the animals I take in and find them life. I miss the days when I did all private placements, but those days are gone. These days I place hundreds yearly, not sure how long I can do this with the resources I have, but will stay, as positive as I can for the future.
I truly hope that the unfavorable media our pound is receiving doesn't affect all the good we have done, for I would like to keep moving forward with our programs.. The county has been paying for the health certificates, for the animals taken from the pound to help with our expenses and hence save their lives.
The way I presented it to them was that yes, I understand they are an animal control facility.
The county is there to control the animals, so they could pay to euthanize or pay to buy them life with a health certificate and I would take care of the rest. They agreed to help.
What makes "A Place To Bark" unique is that we a full time foster facility, between animal control and the humane society.
We quarantine and fully treat all the animals that come thru our doors.
Most shelters just don't have the time and man power to do this, not to mention it is very expensive.
My belief is that life should not have a dollar sign attached to it.
We always seem to find a way and fully commit to caring for the animals that I take in.
Yesterday I spent the day training and interviewing pound dogs with my friend "David".
He is a professional dog trainer and trains dogs for federal law enforcement agencies. "Hank" was hired and is on his way to a new job & life.
I can't tell you how happy he was going thru the training session with David. You can see it in his eyes!!
I also took in 12 new animals yesterday..
I'm hoping I can transport next week, but it will all depend if I have a vet to do the health certificates, for I'm not sure what is going to happen with current vet from the shelter.
We are fully loaded and some of these guys have been here 6 weeks.
They are ready to go, not to mention the weather is changing and I worry that they will be cold.
Until we have a building I will have to close up for the winter.
Since this is a heavier post than what I normally do, I will also add this link, which truly makes real what I am telling you about the never ending needless killing that goes on every day in every part of the country. If you want to save a dog in a shelter near you, click on the icon below.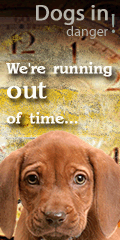 I have also been asked to see the article about the shortage of puppies and kittens in different parts of the country.
Click
HERE
if you would like to read it.
I hope that there will come a day, when each and every person takes full responsibility for the animals they take into their lives. By spaying and neutering the animals there will not need to be a place like mine...
Till that day, we'll keep doing what we're doing..
COMMENTS:
The photo of the rose bush that is always in bloom is so beautiful and symbolic. Your cause and the incredible amount of work and energy that you put into it makes such a difference in the world.
I love your artwork!
I have added your blog to my links. Many thanks for adding mine Bernie, and for your kind comments.
Warmly,
Susan
Post a Comment
<< Home